About Forest Johnson
For those of you unfamiliar with my work, please allow me to introduce myself . . .
My name is Forest Johnson. Base in Ft. Lauderdale, Florida, I'm a photographer and cinematographer whose excellence in quality imagery and footage has earned worldwide recognition.
The East Coast of Southern Florida is well known as "The Boating Capital of the World". The climate and close proximity to the Bahamas as well as the Caribbean add to the reputation of being a year-round playground. Born in Miami, I've been a resident here my entire life and familiarity with the area has been a great boost to my career. Being around boats since birth has also helped my career – as has my passion for aviation.
I am the son of a famous boat-builder, Forest E. Johnson, who designed and built Prowler Boats. These legendary cruisers were custom-made with mahogany frames and white cedar planking. Powered by straight inboards – in their day they were extremely popular cruising and fishing boats.
Originally from Key West, Florida, my father built his first boat at the age of 14. He never looked at boat-building as a job – it was always a passion for him.
This lifelong desire to create beautiful wooden boats brought him to Coconut Grove, Florida, in the early 1930s. As the demand for his boats grew, he later relocated to a manufacturing facility on the Miami River. Forest E. built boats for the City, County, and State of Florida as well as the U.S. Navy. He built boats for many celebrated customers who became best friends . . . such as Bill Burdine of department store "Burdine's Sunshine Fashions" which later became "Macy's". Burdine owned 21 Prowlers throughout his life – having a new one fabricated every 2 years.
Other notable good friends included President Richard M. Nixon who fished a great deal with my father. Don Aronow, the originator of Formula, Donzi, Magnum, and Cigarette boats was also a good friend. In fact, Forest E. helped Don Aronow get started in the boat-building business. His many friends equaled his craftsmanship which began in the early part of the 20th Century and continued through Prohibition, World War II, the Fabulous 50s, and throughout the 60s.
Forest E. Johnson's life was filled with what he cherished most—building boats, racing boats, and simply enjoying boats.
However, by 1969 most wooden boats had been replaced with fiberglass models. So, Forest E. reluctantly made the change and began to build 23-foot and 32-foot fiberglass Prowlers until his untimely death in 1971. That's when I came in . . .
After his passing, I became totally involved in the family business with my mother, Heidi. Until then photography was only a hobby for me. My real interest was flying – especially in helicopters. As far back as 8 years old, if I got an "A" on my Report Card my parents rewarded me with a 15 minute helicopter ride.
So, armed with a small camera and the thrill of flying, I developed my own passion…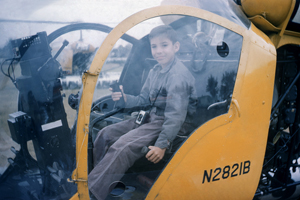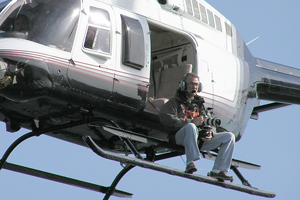 sometimes, you just know what you want to do when you grow up!
Almost overnight I found myself running a boat-building business. Without many build requests and an impending energy crisis looming – saving money was a priority. Without the necessary finances needed to hire professional photographers for our Ads and Brochures, I had to do it myself. So – using a hand-me-down Nikon F-2 Photomic Camera, I began to harass all the local operators of Photo Labs about the best ways to shoot a boat . . . and received a completely different answer from each one! As a result, l learned using the trial and error method. Because I had no formal training in photography (much less aerial photography from a helicopter) I simply kept trying different techniques until I found one that worked. After awhile . . . I was really good and efficient at it.
1n 1976 the family business was sold. My mother retired and a year later I joined the staff at Bertram Yacht. This is where I truly began to hone my skills as a boat photographer – spending eight years as the Advertising and Sales Promotion Manager – and photographing all the products.
In 1986, I started a full-time career as a location and aerial photographer specializing in the Marine Industry. This profession has since taken me to various corners of the world all the while meeting and working with a lot of great people. I've been fortunate to have won many awards, including International Photographer of the Year for the Bahamas Islands. I was also named by Popular Photo Magazine as a true "Specialist" in my field. Yet one my favorite accomplishments is to have photographed over 1,600 Magazine Covers . . . and still counting!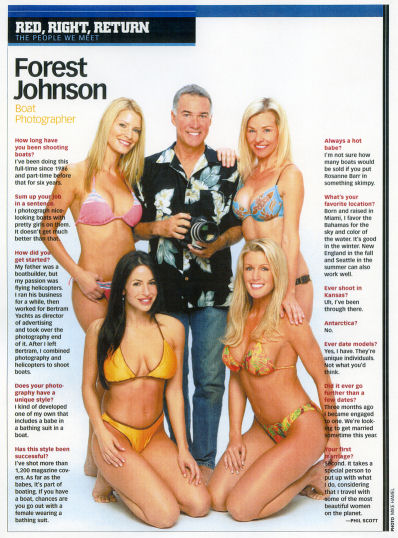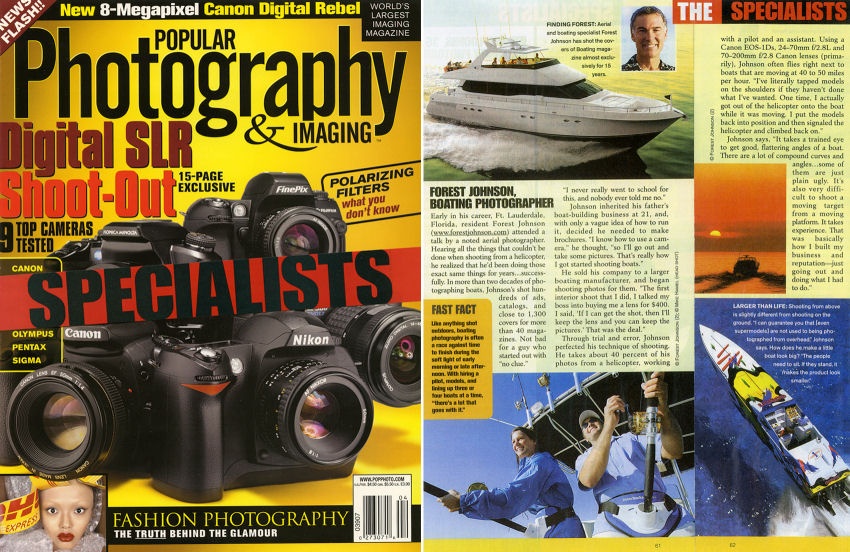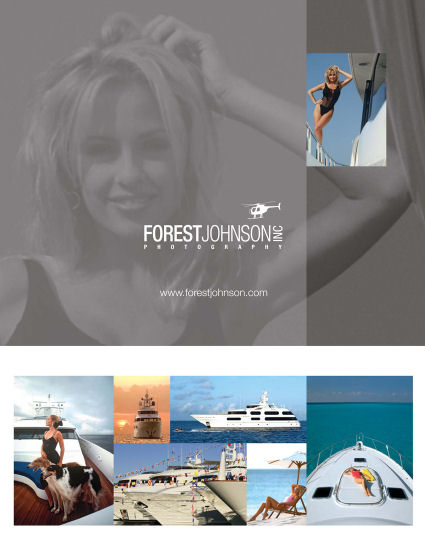 I'm also now involved in shooting UHD Video – and many aspects that are associated with it. This includes editing, post production, and occasional voice-overs.
I remain actively involved with the Boys & Girls Clubs of Broward County, photographing their annual fund raisers which feature large boat rendezvous. This year's event celebrates my involvement of almost 25 years in working with this exceptional charity which helps provide kids a positive place to learn and grow.
My photography still leans primarily towards location and aerial work . . . and I still travel extensively shooting boats, destinations, and lifestyles. Still meeting and working with a lot of great people. Still enjoying my work as much as when I began. Hopefully, as you navigate throughout this Website, you'll recognize the passion and attention to detail I strive to accomplish with each image and film clip.
My goal has always been to provide my Clients with the highest quality of photography. That same goal remains firmly intact today . . .
Active Memberships: